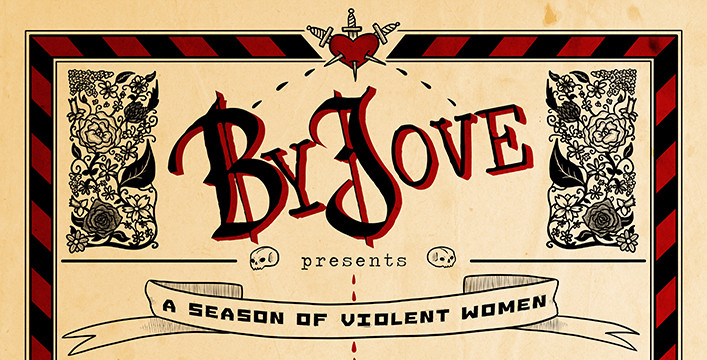 From November 2016 until September 2017
Transgressive, threatening, enthralling – myths of violent women force us to confront our expectations of what a woman should be at a time when women leaders are at the forefront of the public imagination. Though often the centre of a maelstrom of sexist stereotypes, they still present unapologetic symbols of female defiance – and those without power can be equally dangerous.
Our Season of Violent Women sees us take over the Gallery on the Corner – formerly Battersea, now Tooting – to tell the stories of three violent women in a close, corrosive, and uncompromising way.
THE FINALE OF OUR SEASON OF VIOLENT WOMEN

The most infamous violent woman of all comes to the Gallery on the Corner from 11-14 October 2017. In a gripping new adaptation by company associate Wendy Haines, the woman who has been shocking audiences for two and a half thousand years arrives to conclude the season.
---
Previously in the season
In November 2016, we unleashed Shakespeare's She-Wolf of France in Margaret of Anjou, charting her cataclysmic rise and fall during the War of the Roses. You can check out this in-depth review of the show on the fantastic Planes, Trains, and Plantagenets blog, as well as listen to our post-show discussion with the cast, chaired by Professor Elizabeth Schafer from Royal Holloway, University of London.
In May 2017, we moved to the new Gallery on the Corner in Tooting – there we re-imagined an ancient tale of excess and liberation in Here She Comes, a one-woman epic poem based on The Bacchae. Co-artistic director SJ Brady sought to reclaim and explore Agave, a woman who meets with both wonder and terror on her journey of self-discovery into the deepest part of the woods. Check out the show page to find pictures, reviews, and more information on how the show was developed.
Find out more: SPARAGMOS
Head over to SPARAGMOS, our online journal accompanying the season, to read about the themes we're playing with in a little more depth. The journal's short essays are written by academics and theatre-makers for a general audience, so you can explore the season's broad scope of ideas and motifs.
Throughout the season there'll be a number of additional events – Q&As, play readings, and more. Join our mailing list to be the first to hear about these exciting opportunities, as well release dates for Medea tickets.
---
Getting to The Gallery on the Corner
Formerly in Battersea, the Gallery on the Corner has now re-located to Tooting (in what used to be Sadiq Khan's constituency office!) The nearest station to the Gallery is Tooting Bec on the Northern Line (two minutes walk). Balham station, with its mainline links, is also just a short walk away. Local street parking is free in the evening and at weekends.
The Gallery's address is: 273 Balham High Road, London, SW17 7BD
---

By Jove have turned five! We celebrated with a night of live poetry and performance at the Gallery on the Corner. Thank you to everyone who came along – we had a fabulous time and we hope you did too. You can take a look at the photos from the night
here
– if you'd like to request a copy, please email
info@byjovetheatre.org